Scuba Diving
Quadriplegic Scuba diving was an unexpected pleasure. For years after my injury I avoided getting cold and wet at all costs. Quadriplegics do not regulate their temperature well, and any time I got cold or wet I would get chills that lasted for hours. So when the opportunity came up to go scuba diving with a local group I hesitated. But just like when I went skydiving, I asked myself, how can you work with a nonprofit that promotes sports and recreation for people with disabilities and not participate in the activities you are encouraging other people to get involved in.
So I jumped in with both feet so to speak. Actually like most of the sports and recreational activities for someone with my level of spinal cord injury (C5/C6) it is time-consuming and involves. I arrived on the scene of the Rutgers University pool and met the folks with Dive Heart Northeast Chapter. They showed us of a short video and asked us a few questions. Then the fun began! Getting in and out of my wheelchair when I wake up and go to bed is challenging enough. Getting a 6 foot 210 pound paralyzed dude out of the wheelchair, onto the floor,
into a wetsuit and into a pool is something completely different. But when it comes down to it also takes is the willingness of the paralyzed person, some experience and lots of muscle. The people at Dive Heart were awesome, and with the help of my friend Elvie it went pretty smooth.
So what was it like?
A little scary to begin with. The worst thing
you could do when your scuba diving is to hold your breath, but my first reaction when my head one underwater was to hold my breath. Once I learned to trust the regulator, which is the breathing apparatus that goes in your mouth, my fear melted away and I started having fun. For someone who has been paralyzed for 26 years and has been limited to flat services and mild inclines, scuba diving was liberating. Floating, yes floating, is probably the best description. Once you're in the water with the air tank on its much different than regular swimming. Your body does not have a tendency to rise to the top. The weight you have balances you out and allows you to move underwater up down and all around.
It was also strange! When I'm sitting in my wheelchair or in bed I can see my legs and feet and stomach. Even know I can feel them I still have a sense that they're part of me. When I was scuba diving, I had no clear sense of where my body was. Every time I took stroke with my arms, my arms and hands would appear in front of me and then disappear. I had no sense where my body was and when I saw pictures of me swimming it looks strange. Strange and weird but still very cool. I highly recommend trying it. Yes it is somewhat challenging getting dressed and in and out of the pool. Yes I did get cold and stay cold for a while, but it was worth it. I just stayed in the car for a couple of hours listening to radio and reading with the heat blasting.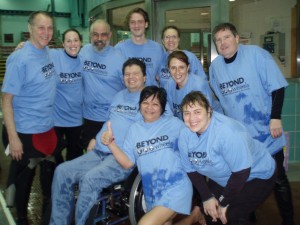 If that's not an option it's a good excuse to get somebody to cuddle up with you 🙂 I haven't done it again but I will. It's my goal to get enough training to get into open water. As much as I enjoyed the pool and Rutgers University, all's I kept thinking about was those beautiful pictures I've seen throughout my life of people scuba diving in the Mediterranean and Caribbean. Count me in!
For more information you can visit Dive Heart and other websites.