White Water Rafting
White Water Rafting, like many sports, can involve many different types and levels of experiences. As a young man in my early teens, I had the luck to have gone camping and rafting in the Delaware Water Gap on the Delaware River. I thought it was a grand experience and looked forward to many more trips in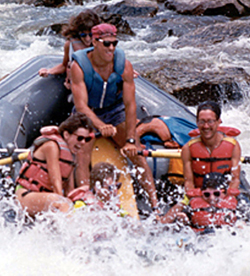 the future. In my late teens I the opportunity to undergo a much more extreme rafting experience. A little more than a year after my spinal cord injury, at age 18, I found myself on the Arkansas River in Colorado.

This was a whole new ballgame and I soon found myself grinning from ear to ear as I was engulfed in a wave of Whitewater. It was an experience I still consider unparalleled in regards to pure beauty and pure adrenaline. When I received my SCI, I had no idea that in under a year I would find myself on the Arkansas River hitting level three rapids in Colorado.
For those of you who are unfamiliar with rafting terminology a level three rapids is only two levels away from the most intimidating rapids mother nature can provide and yet I, a C 5/6 quadriplegic, was hitting these rapids within a year of my injury.

I highly recommend that anyone interested look into programs in rafting. Whether it's a mild trip down the Delaware or the extreme rapids of the Colorado, it's an experience you won't soon forget.